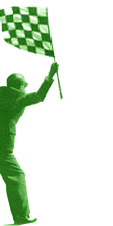 Design work produced by Parkhouse Evans Ltd aims to prove totally effective in communicating clients' corporate or marketing concepts.
Links to examples of our work will appear below, as we assemble them, to demonstrate the way our projects perform successfully in the real world.

The Sphinx CST Trail promotions.

The Derby Dance corporate identity.

The Sanyo Grand Prix promotion.